---
We had a great weekend at Pinecrest! Prospector's On-The-Hill was held inside the main lodge because of the 18" of snow that was on the ground. Not only did we instruct on knots, but also created a belay to simulate lowering a patroller down a small incline.
After a 150 patrollers scrambled though our station, we got a chance to promote our Backcountry Awareness AND Winter Adventures programs. These public education programs combined with our Mountain Travel and Rescue (1&2) are the core of our public outreach. It was great to have the opportunity to promote these programs.
Dinner at Jim Krussow's was another success. Although we weren't outside by the firepit, we watched the World Series on the big screen in the den. We heated our food and waited for a good time to start the feeding. After a few choice morsels, we watched more of the baseball game to its natural conclusion.
After an early rise, we enjoyed homemade waffles and lolly berry syrup!! If you've never had a taste, you will be in for a treat!!!
We then gathered our tools and personnel and headed out toward Burnt Bowl. That area had the lowest amount of snow coverage and would give us the best chance to clear the trails. Many thanks to those that arrived: Joanne Zeek, Irene Patton, Meredeth Dean, Geraldine Murphy, Steve Barr, Larry Crawford, John Kretschmann, Doreen Moser, Tim Helwig.
Thanks again for Jim & Del's hospitality!!! And to everyone that came up for the weekend. Every little bit helps.
I hope that you've made your reservations for Tri-Advisory for we will be there in a few weeks.
I understand that Squaw Valley & Sugar Bowl ski areas are opening for business this weekend with FIVE Feet of new snow. Hope your equipment and bodies are tuned for a great season!!
--Submitted by Jeff Gurrola
---
G'day
The patrol season is finally upon us! Dave and I got an early start and patrolled on Friday before we could get into the cabin to begin the annual cleanup with John K. It seemed a lot easier this year than previously, maybe we were just side tracked by the new TV stand, dvd player and satellite TV receiver! The clean up went well and the patrol cabin is ready for another busy season. Note: we need some supplies toilet paper, soap, beer etc. Unfortunately those cable tv commercials are true, the signal is terrible when its cloudy - bring some dvds!
On Friday there were lots of snow players on the lower slopes but that was really it. We made our way up to the top of chair 8 and skied the Crabtree side. The snow at the top was nice and corny. As we approached Aspen Meadows we found a couple of trees that need to be cleared. It was obvious that there were many snow shoers on the trails, the trails were hard, divety and a pain to ski on. Conditions worsened as we descended and ended up walking part of the way. We were in desperate need of more snow - read on.
On Saturday after a late start finishing the clean up we finally got on the hill. It had snowed over night but it was raining heavily as we left the cabin. After a run down chair 8 to stretch our legs, and the subsequent freeze on the lift on the way back up, we decided we should check out the Gooseberry side. As usual, we found some ski tracks going off into the Stanislaus drainage right behind the sign directing traffic back into the resort. We took note and alerted Dodge patrol in case they had a missing person report later. We assumed it must have been a local given the skier had obviously stopped and saw the signs but decided to keep going. The weather stayed bad until about 4pm at which time the skies were clear and the sun was shining. We had about 6 inches of new snow.
We didn't patrol on Sunday so we could avoid the Thanksgiving traffic. There is plenty of snow out there so do yourself a favor and get out there!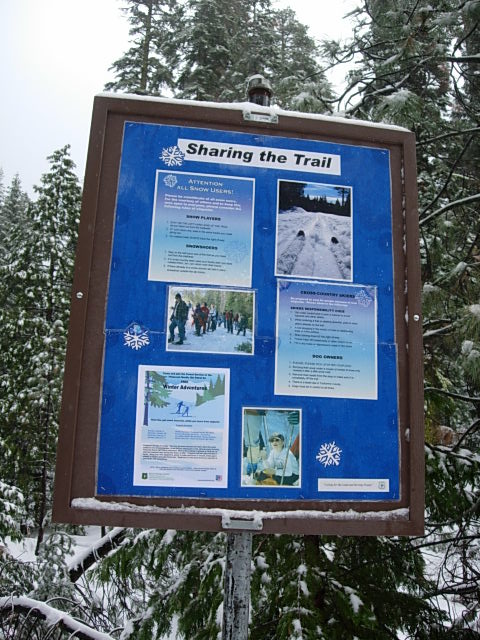 The new Sharing the Trail sign at Crabtree trail head.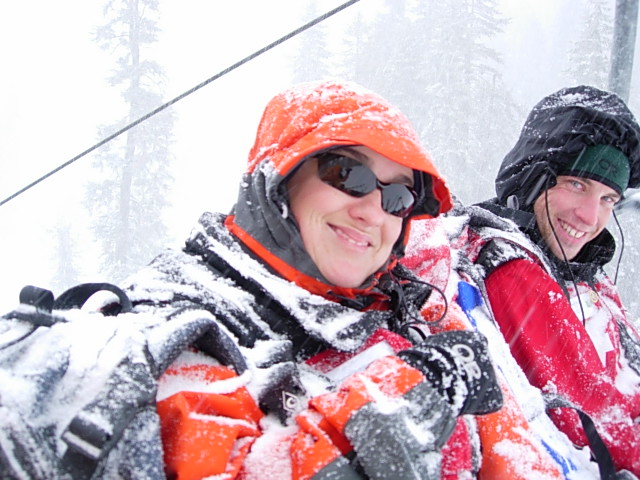 Penny Hutchinson and David Kelly getting snowed in on chair 8 dodge Ridge.
--Submitted by Penny Hutchinson
---
I know that these really don't count as a trail report, but a picture is a thousand words!!!
We had a tremendous weekend on the hill. Mild temperatures, sun and a few Alpine guests. Ken Bergman, our Motherlode Regional Director, was on board to try telemark for the first time AND the first to in this position to ski with a nordic patrol!! Chris Peterson from Prospector Ski Patrol, also wanted to see some of our trails and did wonderfully!!!
Most of the runs were hard-pack snow, but on the sunny slopes allowed for some great skiing!!
There weren't too many stray tracks in the backcountry, but lots of snow shoe'rs that were enjoying the day. There's alot of people still trying to read the road signs at the Crabtree 'stop-sign' junction; so make sure you ensure they know which way their cars are..
Other than that - thanks to everyone for a great weekend.
Check out the pictures on shutterfly here:
--Submitted by Jeff Gurrola
---
Boy, we had such a great weekend at Pinecrest!!! The snow was perfect, the weather cooperative, and the public was very attentive.
We conducted two public outreach programs, Backcountry Awareness & Wilderness Adventures - both with great success. We had two people for the awareness class and some seven for the adventures. These programs need some additional marketing, but on the whole - they are fantastic. Everyone who attends walks out with some greater knowledge!!!
Thanks to John, Irene, Larry, Wade, Steve Barr for helping out with the programs!!!
--Submitted by Jeff Gurrola
---
Another great weekend at Pinecrest. The snow and weather really cooperated this weekend. Steve Barr, Joanne Zeek, Wade Melcher, Geraldine Murphy and myself made a trek to Burst Rock on Saturday. The snow wasns't too deep on the way up and just sticky enough not to require skins - for the most part. We didn't make the whole distance, but the trip back lead us through some magnificant powder.
Sunday; Joanne, Geraldine, and Wade instructed the Girl Scouts at Camp Sylvester. About 30 ladies learned about shelters, 10 essentials, and clothing. I went to Dodge Ridge prepared for a Backcountry Awareness program - but no avail.. Wade and I took Geraldine to the Knob and down augie trail and onto ridge run. The snow was magnificant!!! The trees held so much snow this season that the trails are bumpy - very interesting!!!
Special Note: Gooseberry Trail near chair 8 has been groomed by Dodge Ridge. Mngt wanted a partial clearing to allow safer transport of patients from the bottom of the hill. Secondly, on Sunday, we followed two snowboarders from the Knob, through aspen meadows and down ridge run!! This is along way for boarders - they are either reading the maps, or getting more familiar with the backcountry terrain. Keep a watch for tracks!!!
--Submitted by Jeff Gurrola
---
Senior Nordic Ski and Toboggan Clinic.
With our one and only senior candidate, David Sands, on Saturday we held the senior nordic ski and toboggan clinic. Instructor to student ratio was at an all time high of about 7 to 1, more if you include the dudes on the nordic skiing video. The morning started out watching the v1 mach techniques on video in the cabin before heading up to Dodge for some much needed practice. After perfecting the v1, v2 and v2 alternate skate skiing, we moved on to the nordic downhill techniques of which we are all so familiar. For lunch we hung out near the ski patrol hut at the top of chair 7/8 and chatted the prospector patrol members and watched one of their OEC clinics. After lunch we built a mission ridge sled and a z-rig before a couple more nordic downhill practice runs on chair 8. We swept both sides before retiring to the patrol cabin.
Sunday we were joined by new prospective member Jim Quinley. We knew there were some trees that needed on the lower Crabtree trails so we packed a bow saw and headed off chair three down to Aspen Meadows. Just for something different we headed over to the top of Burnt Bowl for some turns on the way down. The skiing proved to be challenging to say the least with a nice breakable crust just to make things interesting. We found our fallen tree and had it removed in a matter of minutes. After lunch at the bridge we skied back into Dodge and did our final sweep. The weather and snow were great for the majority of the weekend. The snow was getting sun affected in the afternoon until Sunday afternoon when in a matter of minutes a cool change came in and the temperature dropped - lucky we were all prepared with our warm weather gear. It starting to rain and thunder as we left the trail head. No photos from this weekend.
--Submitted by David Kelly
---
Nordic Ski Enhancement Seminar Donner Ski Ranch.
This isn't a patrol report but since we had a lot of patrollers at the event, I thought I'd write a report. A number of us got a house up in Tahoe City and spent the Easter weekend together skiing and drooling over gear catalogs. Saturday we all met at the rustic Donner Ski Ranch for the nordic ski enhancement seminar. We met Ron Evenson the organizer and Tor Brown and Chad Shearer the NASTC/PSIA intructors. There were 14 skiers, 7 from PNSP, the rest from Donner and Tahoe Backcountry. We divided up into two smaller groups and went about putting our best efforts into the 750 vertical feet of elevation Donner Ski Ranch had to offer. We got some great tips and all experienced the great skiing of the NASTC instructors. We also experienced some of the most varying snow conditions I've seen in a day with everything from icy conditions, to powder, to slush.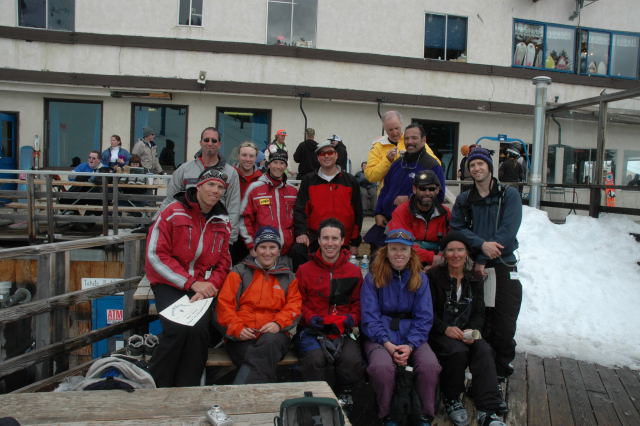 The ski enhancement class at Donner Ski Ranch.
We got some more great pictures that you can view here.
Sunday we intended to ski from Sugar Bowl to Squaw Valley. An imposing weather forecast of soaking rain on top of the loads of snow we received earlier that week soon put an end to those plans. We did decide to at least start the tour from Sugar Bowl to see how far we could get. We managed to reach the top of Mt Lincoln after skiing the outskirts of Sugar Bowl. We at least got some great elevation to practice our turns again before giving in to the weather.
Some pictures of the crew can be seen here.
--Submitted by David Kelly
---
I only patrolled Sunday as the garage sale at Berkeley REI kept myself, Jeff and Keith busy on Saturday. We met Larry on the way up to the patrol cabin on Saturday night who, after spending the day patrolling with Irene, assured us there was loads of snow and the weather was great. Sunday's plan was to get some miles under our belts while the weather was fine and snow deep. We were joined by Steve Barr and Penny, Jeff and myself headed out towards Burst Rock. Even after a late start (we forgot about day light savings) we made awesome time to Burst Rock as it snowed on us consistently - the weather came in a bit earlier then we expected. After doffing our skins we made lines down back towards Strider. Our intention was to hammer out the Strider trail while we were at it but decided we'd had enough and made our way back to the knob. It was a great day and the 2 inches of fresh snow was enough to make the turns feel really good. There' s heaps of snow out there so go get it!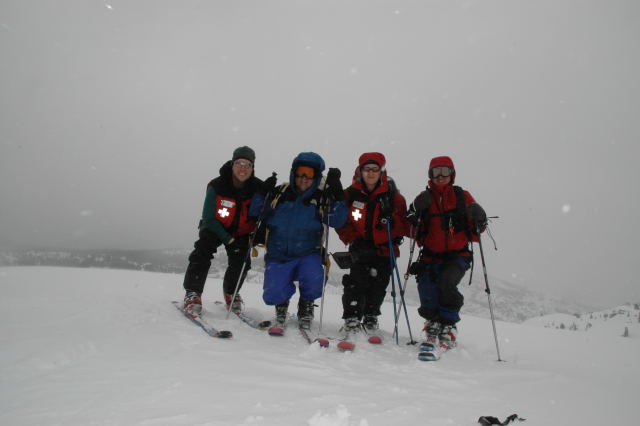 David, Steve, Penny and Jeff on Burst Rock.
--Submitted by David Kelly
---
Archived Reports
2001-2002 2002-2003 2003-2004 2004-2005 2005-2006 2006-2007 2007-2008 2008-2009 2008-2009 2009-2010 2012-2013 Current