---
Our annual candidate weekend was held on the 10/11 of December this year. There was little snow for us to play in and without Dodge being opened it didn't leave a lot of opportunities to play.
Our trip up the mountain had a brief interlude while we replaced truck-zilla's fan belt; an educational event for us new car owners, but fun all the same.
On Saturday morning we got stuck into cleaning our new cabin in Strawberry which was well... not very clean. After a number of hours scrubbing, scraping and sweeping, it was finally feeling like home again. We still had enough time to go for a hike on Saturday afternoon and settled into the cabin for one of our famous pot luck dinners before our patrol board meeting.
Sunday we didn't have much planned so did some multiple victim avalanche beacon searches before heading up to Dodge where we hiked around to the top of chair three and enjoyed the views over lunch. The resort was virtually deserted as the snow level was far from being ready for the lifts to open. We took the opportunity to leave the hill early to get back home early. Overall a fun weekend. Praying for more snow soon.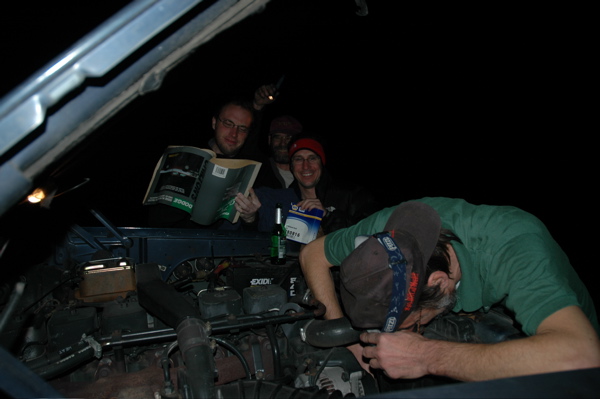 Having trouble fixing truck-zilla on hwy 108.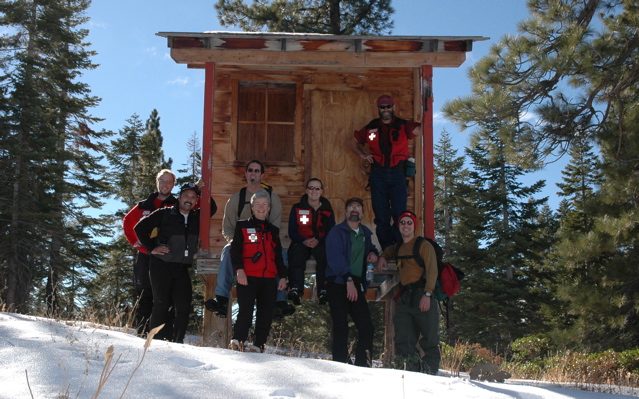 The crew at our new patrol cabin!
--Submitted by David Kelly
---
Dave and I decided that since we didn't have any family commitments for the Christmas weekend that we should go and patrol. We only skiied on Saturday as the snow was really bad. To top it off people have been able to drive on the crabtree trail which made the snow conditions even worse. It was nice on top and we were able to get in a few turns.
Looking at the dodge ridge website it looks like they got some snow today. I skied on better snow in Australia last August. Let's pray for snow as so far it is not looking very good. Go to "News and Conditions" on the website to see some photos.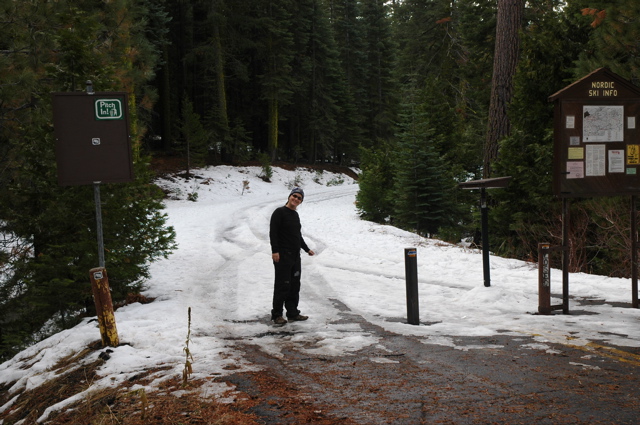 Crabtree trail-head.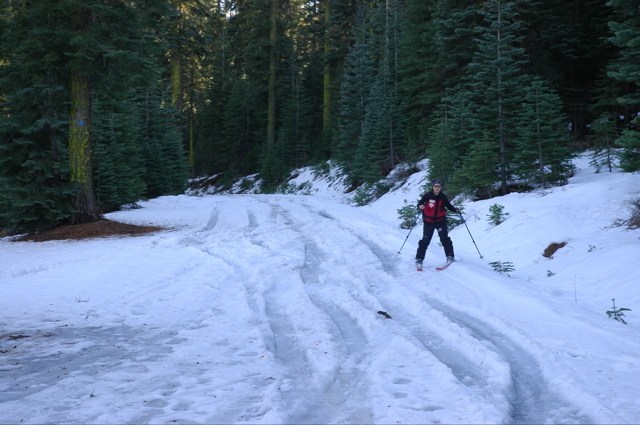 Trying to ski near the stop sign.
--Submitted by Penny Hutchinson
---
We had a fantastic weekend for our On-The-Hill. The weather cooperated better than expected with a few inches of NEW snow. On Saturday, we headed into the back-country right off chair three for a four-legged orienteering activity. The course was beautifully laid out and provided some nice touring.
We had lunch at Aspen meadows while ducking specially crafted snow-balls from Little Jeffrey Bowser. Afterward, we challenged ourselves with some beacon searches. This was combined with building a Mission Ridge sled.
We enjoyed a wonderful dinner at Cafe 108 in Sugar Pine. The prices were fair and the food was good. I'm definetaly thinking of returning soon. We were able to thank Steve Bailey personally for all his years of service assisting the patrol in innumerable ways.
Sunday brought some scattered clouds and some scenarios that challenged everyone.
Thanks to David Sands for a wonderfully planned weekend.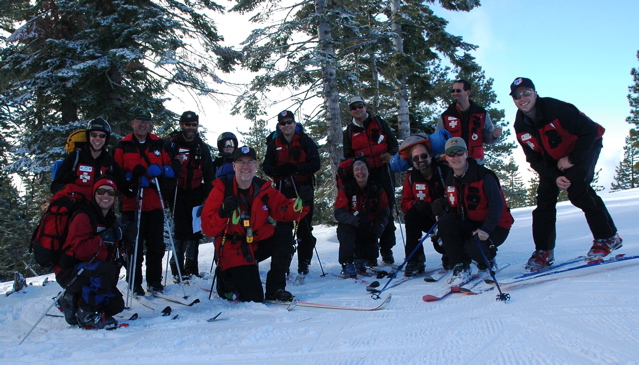 The crew before setting off on our orienteering exercise.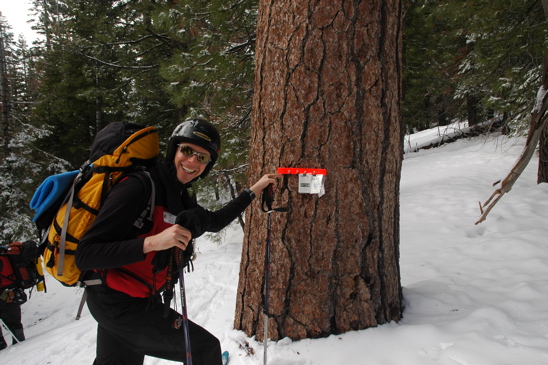 Robert finds one of the place markers.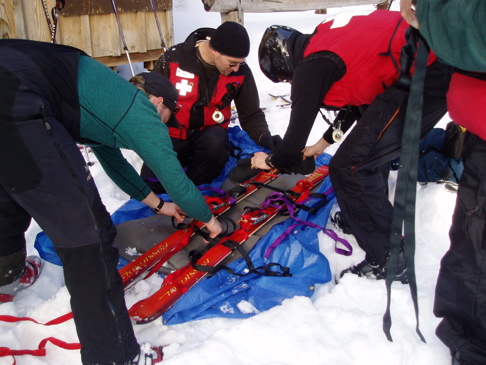 Constructing a mission-ridge sled.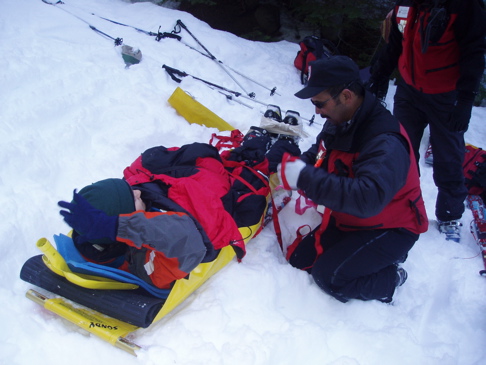 Mariano warps up Penny during the avalanche scenario.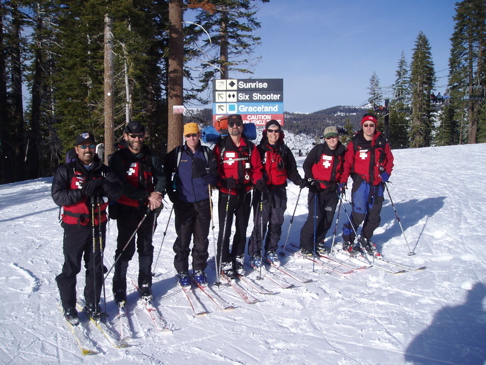 The gang before final sweep at the top of chair seven.
--Submitted by Jeff Gurrola
---
Patrollers:
Irene Patton (Lead)
Jeff Gurrola
John Kretschmann
Jim Krussow
Mark Hahn
Patrolled from 0900 - 1600 (35 hours total)
Cold and windy in the morning; sunny and warmer in the afternoon.
This morning was our first Winter Adventures program of the season. We had 14 attendees. Joy Barney introduced the program. Forest Service Volunteer Meredith Dean helped out and stayed with us for the entire 2 hours. John, Jim and Jeff dug emergency shelters for show-and-tell. Special thanks to Jim and Del Krussow for setting up the hot chocolate and cookies station. Six members of the Ecology Club from Columbia College were among the attendees.
In the afternoon, Jim patrolled the lower Crabtree trails while Irene, Mark, Jeff and John patrolled from the Knob down Nordic Run and Aspen to Crabtree Trailhead. There were very few tracks high up since the midweek storm, but evidence of lots of activity on Crabtree Road.
Snowplayers/skiers: 40
Cars at Crabtree TH: 25
Cars at Gooseberry TH: 10
--Submitted by Irene Patton
---
Hi all,
Last weekend the patrol help our annual MTR 1 class. We had 34 students and about 15 instructors. Following the usual format, we had a classroom session in the morning before heading out to Stans bowl around 12ish. We did the usual shelter building but this year the snow just didn't want to cooperate with us. The shelter building was the most difficult shelter that Dave and I have ever built in the 4 years we have been doing this class.
It snowed all day on Saturday everything was wet even my gore-Tex outer layer. I was a little bummed that I didn't get to ski down some hills in the most amazing snow that I have see this year. The Night SAR went off with out any hitches too many hitches except I was freezing my arse off being a patient/victim and we had a team a little geographically embarrassed. While I was waiting for the people to come and find me I got a short nap in and I had a dream that it was going to be blue skys the next day. Sure enough we awoke the next morning with blue skys. I had a chance to dry out a few things that got wet from the previous day.
Dave did an amazing job organizing this again this year. Hats off to you Dave. I would also like to thank all the instructors/helpers for making the MTR class another success. Jeff G, Doreen, JK, Wade, Larry, Irene, Mariano, Mark, Dave Sands, Ash Fletcher (T-SAR), Peter Rockwell, Fred Bauer and Paul Carlson (Cal-SAR) .
While the class was going on Jim Krussow patrolled the lower trails with Dell. No incidents were reported.
--Submitted by Penny Hutchinson
---
This morning was our second "Winter Adventures" program for the public. Meredith Dean represented the Forest Service. Irene and Meredith handled the first three stations. John Kretschmann, Jim Krussow and Larry Crawford dug some great emergency shelters for show and tell. They also had the water boiling for the hot chocolate when the group arrived at the last station. We had 17 attendees and received lots of good feedback on the program.
In the afternoon, Irene, John and Larry patrolled Gooseberry from the Knob while Jim and Del patrolled down to Aspen Meadow and Crabtree. Snow on the Gooseberry trail is melting fast and the creek is running through parts of the trail. Skiing is somewhat of an obstacle course.
Crabtree had many snow-players today. In addition, more than 30 snowcampers from three different groups hiked out this morning from overnight camps in various areas.
--Submitted by Irene Patton
---
WOW what a weekend! It started for Mariano and I on Friday morning when we drove up to bear and went for a short ski around Lake Alpine. It could have turned into a miss-adventure as we had no map, no compass and I think I maybe had 2 of the 10 essentials. Mariano did his senior there many years ago and we were going by his memory. I am glad it we were not going by my memory as at the moment I don't even know where my house keys are. Anyway we made it back safe. He headed over to Bear Valley to try and catch up with Jim and Irene who were participating in the Friday festival events. We found Wade and then eventually found Irene in the parking lot. Finally we caught up with everyone and retired to the condo that we rented for the weekend.
Saturday was a great day. Dave, Jeff, Jim and I did a clinic with Walter Edberg and his wacky skis. They are called "big foot" - mini skis with toes that he mounted with tele-bindings. His goal was to teach us correct fore-aft stance and given these things were very unforgiving when it came to the back foot position we were forced to comply. Apart from that they were awesome fun and we learnt a lot from them. I think that we will have to get a pair. Geraldine and Irene did a clinic together, Mariano and Wade took clinics and Doreen also gave telemark skiing a try.
Around lunch time there were many things going on including the Beacon Olympics and the All-Terrain races. Dave and I did both. I won the Intermediate Race by default. I really came second but because the first place winner wasn't at the banquet I got the prize. Yippee! (Does anyone want a BCA micro stash pack? It is going cheap!). Dave came 2nd in the beacon Olympics as well but because the guy who won was on the MAS staff and also broke the probe he was disqualified. That's Dave's second win in 2 years! Dave also did the Advanced All-Terrain race which included a huge uphill ski to the top of the mountain and then a decent through the gates to the bottom. He came 3rd not counting the pro skiers who did it.
Then there was the Banquet. So they announced the winners of the races and the Beacon Olympics. Dave won another BCA stash pack, same as last year (Also for sale) They were constantly throwing t-shirts and stuff while they were announcing the door prizes. Doreen won a nice Patagucci jacket - it looks so nice. Wade won a Clif Bar coffee cup and Dave's great reach got me a new pair of Patagucci capalene thermals. It was just crazy! Finally, the second last person to get something was me. I won a pair of new Rossignol Skis!! I don't have them yet I have to call the rep. I think that I will be giving them to Dave if I can.
Sunday was a great relaxing day inbounds. It gave us some time to practice what we learned on Saturday. Irene and Jeff have some photos so I will have to get onto them and I will try to put them up on Shutterfly.
Overall it was a great turn out from Pincerest Nordic. People who attended were Dave Sands, Dave kelly, Jeff Gurrola, Mariano, Jim Quinley, Geraldine, Irene, Darren Rusk, Wade and myself and not to forget Lisa, Doreen and Ian who may someday join the patrol:)
--Submitted by Penny Hutchinson
---
Present:

David Kelly (TL)
Irene Patton
Mariano Caunday
Penny Hutchinson
Larry Crawford (Sunday only)
Conditions:
Snow showers most of the weekend, 6-12" light powder snow. Cold temperatures throughout.
Narrative:
It was one of those weekends that make it all worth it. With the cold storm bringing snow to the Bay Area hills, we knew there would be plenty of fresh snow to play in. Despite this we got a late start from the Bay area on Saturday morning rather then brave the icy cabin on Friday night but the roads were relatively clear and we made it to the trail head in time to meet Irene and Mariano. We got one run out before lunch, we decided to check out some trails leading out towards The Knob and Burst Rock and ended up in a Boulder Canyon where there was loads of powder over an icy and rock base. It was still dumping at lunch so we had lunch in the patrol shack at the top of 7/8.
After lunch we headed down zigzag where we got lots more turns in the fresh snow. As usual, there were lots of snowboard tracks but not much else. We popped out at chair five and headed back to the top to sweep the Crabtree side. We followed some tracks down from the top from some skiers we saw earlier on. There were also lots of tracks above Aspen Meadows from a group that was camping up there for the night and some more tracks down Ridge Run. We headed out down the road where there was another group camping near the stop sign.
We stayed at Irene and Roland's on Saturday night (Thanks!!) after a slow drive down the hill with the road covered with snow and ice. There was 6" on Irene's balcony on Sunday morning and we thought we would have some clearer weather to enjoy the new snow. After meeting Larry we headed to the trail head and made our way to the top and did a nice run down the gooseberry side. With the weather turning on again, we decide to head back to Dodge lodge to have lunch.
We were interrupted during lunch by a Dodge patroller who came looking for us to help with a report of a missing skier on our trails. The group staying above Aspen on Saturday night had come down Ridge Run and one of their skiers had taken a left turn at the bottom (rather then right). After gathering some details we quickly made a plan to split up and head out to the area where he was last seen. It was really coming down with snow at this time and it was quite cold so we were trying to move fast. Penny and I headed to the top of Ridge and were going to flank around Burnt Bowl and Mariano, Irene and Larry were going to head in from the stop sign towards the bridge.
The search was over relatively quickly when Mariano was able to point Doug Parker (on a snow mobile) towards the lower Crabtree loop. The skier was found bivying under a tree and was returned cold but well quickly on the back of the snow mobile. Lastly we headed out to the trail head where we watched some campers build an igloo with a block shaping device. The results were very impressive.
Anyway, a great weekend overall. Check out our photos on: http://plhdpk.shutterfly.com
--Submitted by David Kelly
---
Present:

Narrative:
I did a bit of patrolling this last week and wanted to relate trail information.
2/21 Skied trail 11 from the knob back to chair 3. The powder was holding up well especially in the shade. Some sun crust was developing in the mixed areas. Skied trail 8 from the knob and continued West and North along the ridge (~4N34) Followed the ridge north (along with some ski tracks) and descended the Northwest bowls that you can see from chair 8. The snow here was wonderful untracked powder! The traverse back to the inbounds area was rather epic, as the route crossed heavily treed areas and lots of boulder fields.
--Submitted by Mark Hahn
---
Present:

Narrative:
2/23 Took the standard route to Gianelli Cabin #8-4N47 and skied the South faces from the ridge. Returned via 4N47 - #7 -#5 back to chair 3. The snow conditions are starting to become breakable crust in the mixed sun/shade areas. The South facing slopes are great when in full sun. There is still plenty of coverage on Crabtree road up to Gianelli. I saw 2 women near the Duck Bill who were skiing the entire loop from Crabtree to Gooseberry via Burst Rock Junction!
--Submitted by Mark Hahn
---
Present:

David Kelly (TL)
Penny Hutchinson
Dave Sands
Steve Thaw (guest/candidate)
Mark Hahn (Saturday only)
Bill Lowell (Saturday only)
Conditions:

Saturday - Sunny. The snow is melting quickly. All that snow we got last weekend had almost melted. Sunday - Becoming cloudy. Strong Winds. Snow started late in afternoon.
Narrative:

Mark Hahn needed to set up the navigation course for MTR 2 so Dave and I helped him. While we were doing that Dave Sands, Bill and Steve skied over Crabtree side. We met back for lunch at Dodge. After lunch, we headed back up the hill to finish scoping out areas for the MTR 2 course. While we were skiing down Gooseberry there were about 15 snowboarders. We stopped most of them and told them that they needed an Out of Bounds pass. As usual none of them had a pass and they were just "following their friends" (I.e. they weren''t responsible for their own actions). About half way down the run we stopped for a break and decided to show Steve how to do a Mission Ridge sled. Dave Sands had a small Z-rig kit so we set that up as well.
Sunday morning was a slow start. We considered going out to Burst Rock but we decided that we would ski Strider for something completely different. We took a short cut just past the knob where we got some awesome turns in. We finished skiing Strider at about 1ish and stopped for lunch at Aspen Meadow. We then skied down a very patchy Ridge Run where we did a lot of dirt skiing and rock hoping. After that we attempted to ski to the bridge but there was not enough snow.
It seems that Dodge ridge have been taking snow from Crabtree road past the stop sign and the barricade is no longer in place. We need a lot more snow as there is very little base around most of the trails.
An uneventful weekend but lots of fun was had by all. Lets keep thinking of snow, as we really need it!
--Submitted by Penny Hutchinson
---
See the special report from the Union Democrat written by Amy Limblom.
Check photos on:
http://share.shutterfly.com/action/welcome?sid=8BcMWrly4bsI8
---
Present:

David Kelly (TL)
Penny Hutchinson
Larry Crawford
JK (saturday only)
Dave Sands (Sunday only)
Bill Lowell (Sunday only only)
Keith Gale (sunday only)
Conditions:

Saturday: Sunny in the AM cloudy and snowing in the PM. Sunday Fine in the AM. Becoming cloudy and cold in PM.
Narrative:

Saturday Dave and I drove up Saturday morning after having a big night out for St. Patricks day. We got to Pinecrest about 10:30 went to the cabin to pick up a radio and called JK and Larry. They got to the trail head around 9am. They were skiing down Crabtree. So we thought that we would try to catch up to them and we did quickly. They were breaking train all the way down the hill and it was tough work for them. I think that they were glad to see us as it ment that someone else could break trail. We had lunch at Aspen Meadows and also meet up with Oren (if you don't remember him he patrolled for us about 2 years ago). We then skiied back to the cars it took us all day to just do one run in the heavy snow
Sunday:
Keith and Dave Sands turned up really late on Saturday night so it was good to have extra people. As we were about to leave the cabin Bill Lowell also turned up. Bill was going to patrol the lower half of the mountain while we thought that we should do some training for the Haute Route so we decided to head out to Burst as we original planned. We didn't make it out there. We made it 360 m away from "The Lunch Spot". It was really tough work. We had a plan only 50 paces and then switch people. We had to break trail the whole way out. I think it was a great effort done by all.
--Submitted by Penny Hutchinson
---
Present:

Irene Patton
Larry Crawford
Narrative:

Saturday was a snowy day with strong gusts of wind and some whiteout conditions at the top of the lifts. It was raining at Summit Ranger Station, but snowing at Dodge all day except for a brief respite between 3 and 4 pm. Total accumulation was an inch or two at the base of Dodge and at least a foot at the knob. Snow was wet and heavy. We broke trail from the knob down Gooseberry in the morning and then did a final sweep down from the top of chair three to Aspen Meadow and down Crabtree. We saw tracks of two snowshoers between Crabtree TH and Aspen and back down again. We also encountered a group of 10 Boy Scouts and adults headed out to lower Crabtree for overnight camping. There were no other snow players, skiers or snowshoers.
What a difference a day makes! On Sunday the sun was out, the sky was blue and all of the trees were raining snow! Skiers, snowshoers and snowplayers were out in droves. We started out the day by digging out the outhouse at Crabtree TH - 30 minutes of dedicated effort. We then skied out to lower Crabtree to check on the Boy Scouts, who were doing fine and engaging in snowball warfare. We picked up a pair of ski poles left in the Crabtree parking lot. It turns out that they had been lost by Karen (Kite?) SWV so we left them at the Wilderness Office for her to pick up. We patrolled from the knob down Nordic Run, Aspen and Crabtree in the afternoon, enjoying totally pristine snow on the higher trails where we laid fresh tracks all the way until we connected with yesterdays tracks. We enjoyed lunch just down from the knob with a great view of Yosemite off to the south. We talked to lots of people on the trails today - everyone seemed happy to have the sun out again!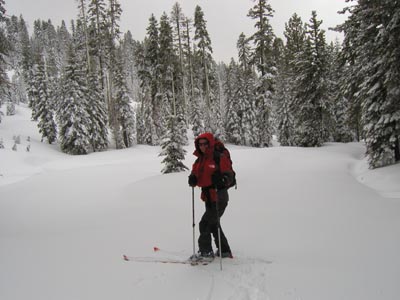 Irene at Aspen Meadow.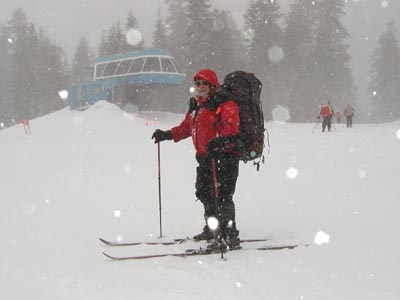 Larry at Top of 8.

--Submitted by Irene Patton
---
Archived Reports
2001-2002 2002-2003 2003-2004 2004-2005 2005-2006 2006-2007 2007-2008 2008-2009 2008-2009 2009-2010 2012-2013 Current