---
A total of 19 students participated in the annual Mountain Travel and Rescue 1 class that was held Sat 23 and Sun 24, 2013. It was a diverse group with some students being out in the snow for the first time of their lives and others with lots of experience in search and rescue and winter camping. This was a great opportunity to learn from each other and create a team spirit in which everyone supported each other. After the class room session the students headed out in 4 teams towards Stan's Bowl. Despite the lack of snow in January and February, there was still about two feet to use for shelter building and all were able to construct nice shelters. During the afternoon there were a few light snow showers that added to the winter feel. After dinner the skies opened up, the temperature dropped and the students went out in three teams for the Search and Rescue exercise in the night. Joe, Wade and Claude(tte) got lost and were efficiently found by the teams. Around 11 pm everyone was back in the camp and warmed up by the search. The following morning the sun came out and put a smile on everyone's face. The rotation skill stations were a blast. The camp was cleaned up and all made it back to the Gooseberry trailhead, where everyone was released once all equipment was accounted for. The amazing part of the weekend was that everyone had learned something new and had a good time. Thanks to all the patrollers who helped out for the course: Anna, Irene, JK, Larry, Keith, Mike, Bill K, Bill L., Jia, Joe, Wade, Claude.
--Submitted by: Thijs Kaper
(Click on image to get high resolution version)

Our ON THE HILL training weekend was a total success with a great turnout by PNSP. After a brief meeting Saturday morning at the Pinecrest community center, we headed out for the hill where we were blessed with light, cold powder skiing. We skied to the Aspen meadow road from the top of chair 3 and had a great avy review by our resident "snow science geek", Keith. We dug snow pits to look for "layers", took temperature readings of the layers and performed an extended column test to look for slabs. Afterwards we had beacon search skill review and practice. John K led us in the Brooks Range emergency sled review of assembly and we got a chance to practice with these.
Saturday afternoon we headed back to Dodge Ridge, top of Chair 7, where the crux of the weekend training began………our big SAR scenario. We broke into 4 teams to perform a hasty search of the PNSP trails. Since we were to continue this scenario Sunday, it was no surprise that we did not find the lost party!
On Sunday we regrouped and had a full blown SAR search in conjunction with Tuolumne Co sheriff as well as Tuolumne Search and Rescue. We all teamed up and received our assignments from the Incident Command post and went in search of the lost parties. I was in the group that actually found our lost guest, magnificently played by our on Larry Crawford, who was injured and hypothermic. We assembled the sled (good thing we practiced the day before) and hauled him out. This was easier said than done! We had to initially move Larry by traversing a hill side, where the sled started to pull apart. We then had to move Larry off the sled, reassemble and tighten the sled (great job Wade!), move Larry back on the sled and transport. However, once this was corrected, it worked great.
Several of us drummed up enough energy to take one last run down Gooseberry and Zig Zag to enjoy our snow before the chore of cleaning up and driving home. It was a great weekend and is always fun to spend time with our PNSP friends.
--Submitted by: Jim Quinley
---
Seven patrollers showed up to enjoy the amazing snow on this first weekend of 2013. We were greeted with 4-5 feet of snow, which was still soft and fluffy in places. On Saturday, we started by doing Nordic Run to go to Aspen Meadows. Irene tested her flashy new skis and they are approved for backcountry use. We then skinned up to the top of chair 3, which made us once more very appreciative of the privilege to use the Dodge Ridge lifts! After lunch, Thijs had prepared a navigation exercise, which refreshed our map, compass, & GPS skills. Then it was time to enjoy some more of the white fluffy stuff, with some of us making an up-close analysis of the snow crystals after some beautiful face plants. Between all patrollers, we covered all our zones, with Jim and Del patrolling the lower trails.
On Sunday morning it was snowing and our first task was to dig out Wade's car. It soon became apparent this would require some serious toys (whoops, I mean equipment) and Dave M. was happy to come to the rescue with his John Deere skid steer loader. We then started our patrolling with some ski enhancement on the Dodge Ridge slopes of chair 8. This fun was followed by patrolling 3 runs. It kept snowing, and by the end of the day we had 8 inches of fluffy white powder on top of the snow from last week. It doesn't get better than this, so make sure to come up and get your turns in!
--Submitted by: Anne-Carlijn Alderkamp
Photos by Wade Melcher. (click on image to get high resolution version)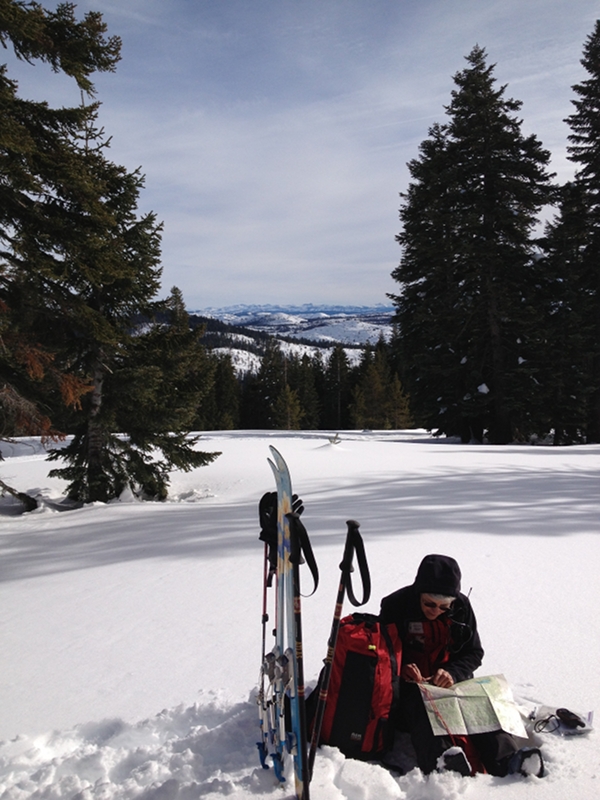 ---
The Avalanche 1 course was a great success. The first weekend was spent going over a broad range of information about snow conditions that can to an avalanche, variations in snowpack, types of snow crystals, angle of slope, and so on. We spent an afternoon practicing beacon searches, and another full day studying snow in the field--digging snow pits, practicing various tests for snow pack stability, and finishing with a rescue scenario involving multiple beacon and organized probe searches. The next Sunday we spent in the Castle Peak area near Lake Tahoe, splitting into groups to work on safe route selection while traveling in potential avalanche terrain, and more snow tests and rescue scenarios. All participants found the class challenging, immensely informative, with excellent leadership and instruction.
--Submitted by: Andy Padlo
---
Patrollers:
Anna Alderkamp
Vincent von Kaenel
Andy Padlo
Last Saturday, Andy, Vincent, and I took the opportunity to ski with Tahoe Backcountry in the Castle Peak area, before the third and final day of the Ave 1 course on Sunday. In the early a.m., the Von Kaenel express drove us swiftly to the SnoPark next to the Boreal, where we met up with David Kaisel and consort, who were very enthusiastic to have us ski along. We had a good group: four patrolers and eight guests, including us, our friends Marusa and Uli and three other prospects. We divided gear amongst all patrolers and guests: brooks range sled, suction devices and airway, mega mitt shelter, sleeping bags. Then, we split up in two teams, Andy and Vincent (Non European Union) went with Jim R. as lead patroler, whereas Uli, Marusa and I (EU) went with David K., Carlo and Marc. Before we started we discussed the avalanche danger (low, with pockets of moderate) and the skier that had set off an avalanche near Sugarbowl on Thursday.
We skinned up the back of Andesite Peak, where we had lunch in the mega mitt to get some sheltee form the cold weather and snow showers. Then, it was time for some great powderturns off the west face. There was a thin of a raincrust under several inches of nice soft powder which made for great skiing and some nice faceplants. We then skinned up to the ridge near Castle Peak. Here, some snowshoers were almost jumping on a cornice: an avalanche disaster waiting to happen! David kindly suggested stepping back a bit and the oblivious snowshoers thanked him for the information. Maybe they should have joined the Ave 1 class! Time for some more powderturns into Round Valley, before heading back up again to the saddle, and out to the trailhead over the "toboggan ride." Near the trailhead we met Mike, Gilles and Dominique, who were going snowcamping with other Ave 1 candidates. What a great day of skiing!
In general the patroling activities of Tahoe Backcountry are very similar to ours, with the obvious difference of the terrain. Because of the large amount of reasonably fresh snow, the avalanche awareness was very high. And, since there were no comfy Dodge lifts to take us up, the physical activity was high, too. Luckily, these guys hardly see any incidents, similar to us. The good thing of TB is that they have two caches with gear in the area. Big crates in dead trees, with ladders leading up to them, containing a cascade toboggan, sleeping bags and other gear, should someone become stuck. Thanks to David and the others for hosting us, and hopefully we'll do it again before another four years pass.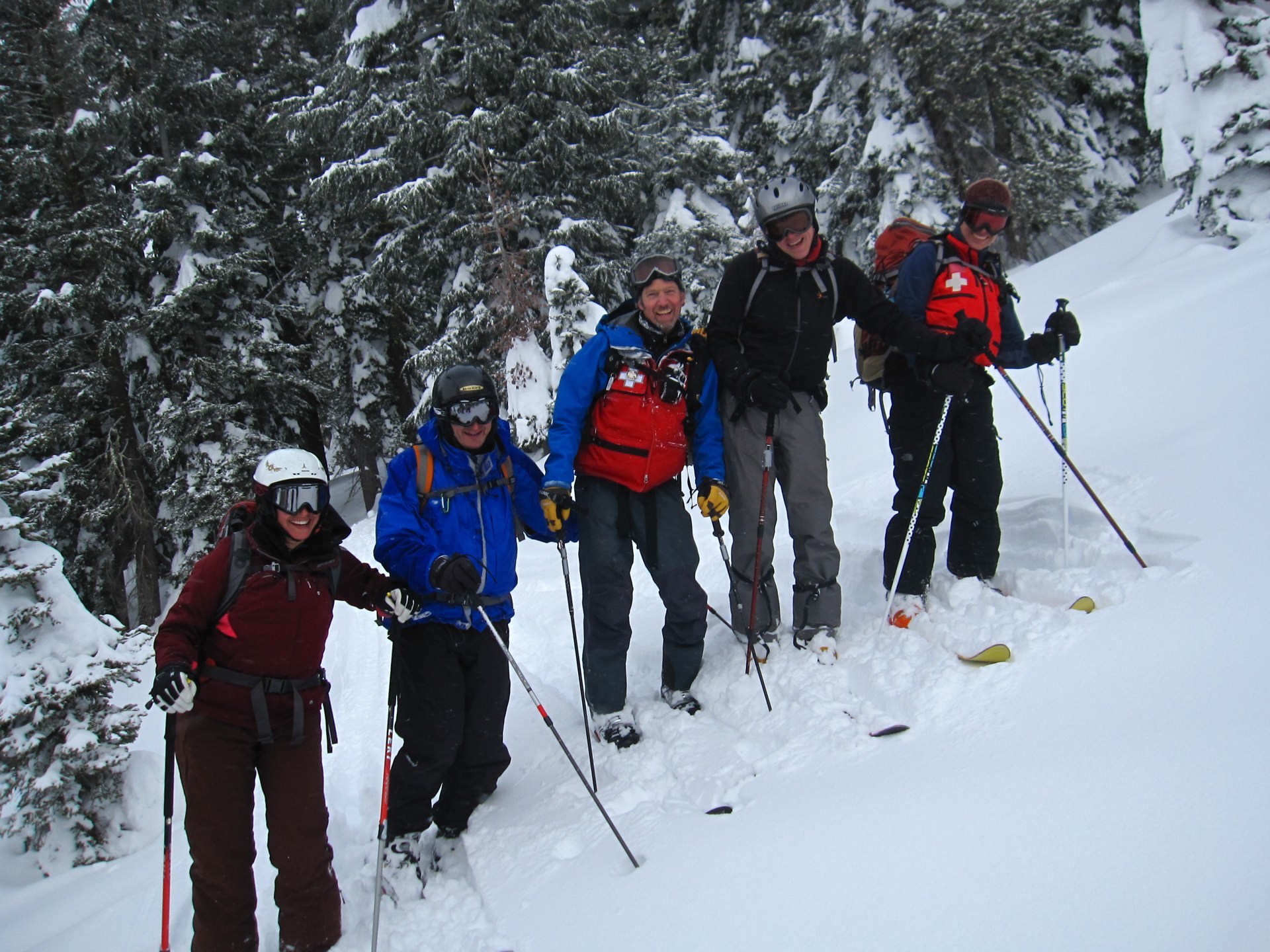 --Submitted by Anna Alderkamp
---
Archived Reports
2001-2002 2002-2003 2003-2004 2004-2005 2005-2006 2006-2007 2007-2008 2008-2009 Current